The Society for Digital Mental Health is excited to invite you to attend its inaugural annual meeting: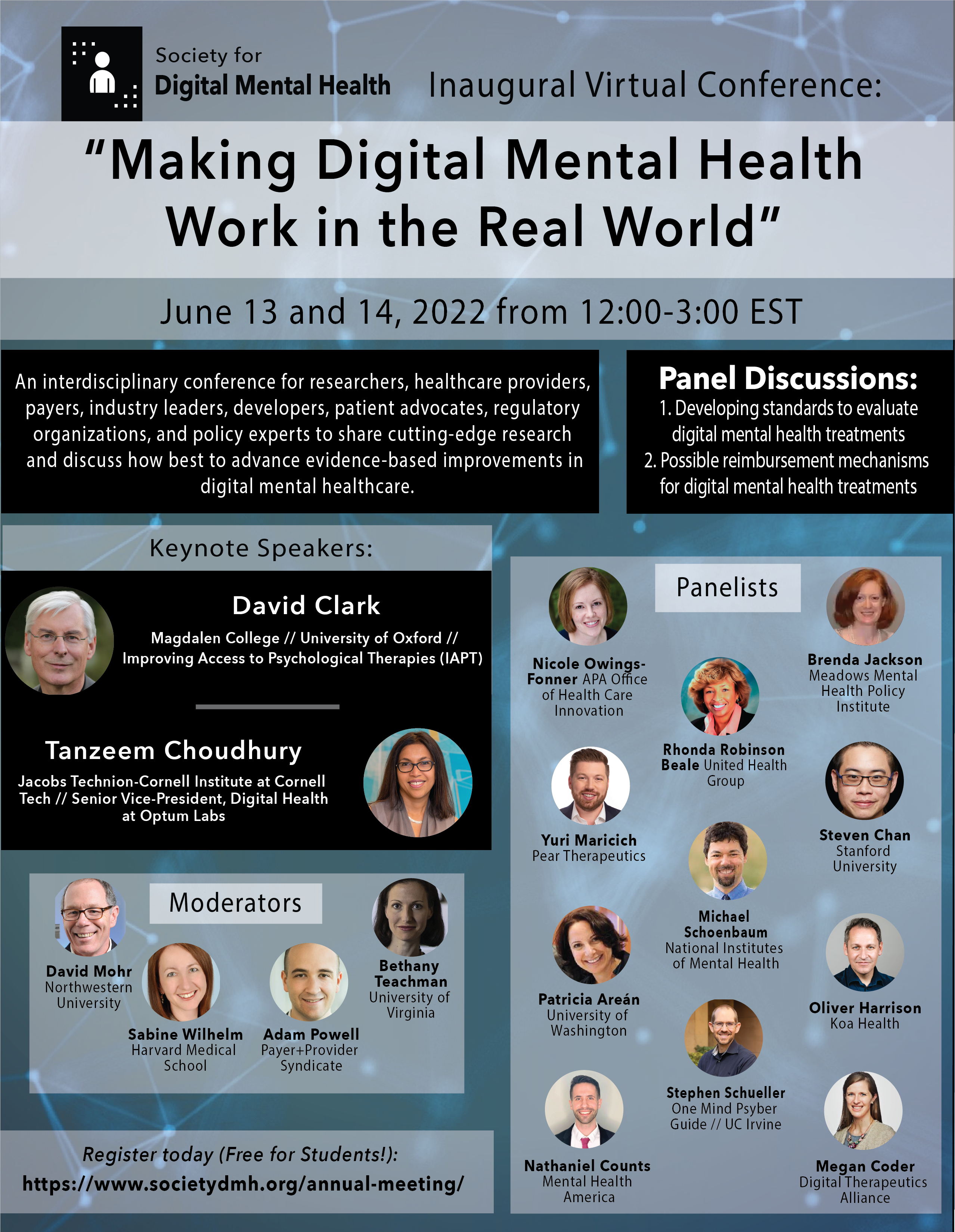 "Making Digital Mental Health Work in the Real World"
June 13th and 14th, 2022 from 12:00-3:00 pm EST, virtually held.
This interdisciplinary conference will bring together researchers, healthcare providers, payers, industry leaders, developers, patient advocates, regulatory organizations, and policy experts with the goal of sharing cutting edge research and discussing how best to advance evidence-based improvements in digital mental healthcare. In addition, the conference will explore critical factors in making effective digital mental health treatments broadly available, including expert panels on developing evidence standards and the establishing reimbursement mechanisms.
Registration is free for students and $100 for non-students.
Tickets are being sold via Ticketleap: https://societyfordigitalmentalhealth.ticketleap.com/2022-annual-meeting-of-the-society-for-digital-mental-health/
Conference Program
June 13, 2022
12:00

Welcome

David Mohr, Chair Society for Digital Mental Health, Northwestern University 

12:10

Invited keynote address: Tanzeem Choudhury

Cornell University, Senior Vice President, Digital Health at Optum Labs (UHG)

"Creating a Unified Digital Mental Health Product for Patients and Providers"

 Introduction by David Mohr, Chair Society for Digital Mental Health, Northwestern University

12:50

Panel on developing standards to evaluate digital mental health treatments

Pat Areán, University of Washington

Megan Coder, Digital Therapeutics Alliance

Nathaniel Counts, Mental Health America

Nicole Owings-Fonner, American Psychological Association 

Stephen Schueller, UC Irvine, One Mind PsyberGuide

Moderator: Bethany Teachman, Board member Society for Digital Mental Health, University of Virginia 

1:30

Break 

1:40

Breakout groups to discuss developing standards to evaluate digital mental health treatments

All meeting attendees 

2:15

Poster session

For a list of posters, see https://www.societydmh.org/2022-posters 

2:55

Wrap-up in main room 

3:00

Adjourn 
 June 14, 2022 
12:00

Summary of Day 1 and review of goals for Day 2

Stephen Schueller, Board member Society for Digital Mental Health, UC Irvine 

12:10

Invited keynote address: David Clark

University of Oxford, Improving Access to Psychological Therapies

"Evolving use of digital in the English Improving Access to Psychological Therapies (IAPT) program."

 Introduction by Sabine Wilhelm, Board member Society for Digital Mental Health, Harvard Medical School

12:50

Panel on possible reimbursement mechanisms for digital mental health treatments

Rhonda Robinson Beale, UnitedHealth Group

Steven Chan, Stanford University

Oliver Harrison, Koa Health

Brenda Jackson, Meadows Mental Health Policy Institute

Yuri Maricich, Pear Therapeutics

Michael Schoenbaum, National Institute of Mental Health

Moderator: Adam Powell, Board member Society for Digital Mental Health, Payer+Provider Syndicate 

1:30

Break 

1:40

Flash Talks

Featuring innovative digital mental health approaches, including those that address the needs of diverse, underserved, or low-income populations

For a list of flash talks, see https://www.societydmh.org/2022-flash-talks/

2:50

Wrap-up in main room 

3:00

Adjourn